Engagement Rings Houston, TX: Diamond Wedding Ring Jewelers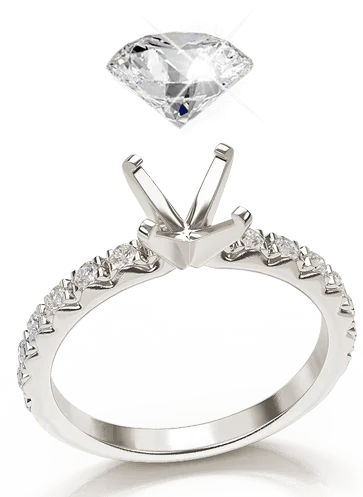 Sol Diamonds is a custom diamond engagement ring and jewelry store in Houston, TX. When you're looking to find engagement rings in Houston, select a ring setting, such as Solitaire, Pave, or Halo, and choose from our loose fine diamonds, or lab-grown diamonds to create your perfect diamond engagement ring. Create a ring that suits your particular size, taste, and budget. While you shop, if you need our help, get in touch and speak to our expert jewelers for the advice and guidance we can offer you.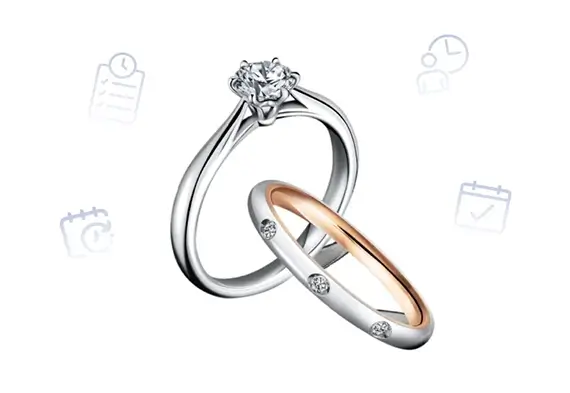 SHOP FOR RINGS IN-STORE.
The best deals for buying Loose Diamonds and Diamond Engagement Rings are found at SOL Diamonds, and we have a wide selection of other jewelry. If you would like to know more about the exquisite pieces available, we are always here to help. As one of the finest jewelry stores in Houston, TX, we have an extensive selection of Houston, TX engagement jewelry, wedding rings, earrings, and many other pieces of fine jewelry at several different price ranges. So, no matter your taste and budget, schedule an appointment today with our specialists to know more.
Explore our diverse range of engagement rings in Houston, including custom engagement rings, vintage engagement rings, halo engagement rings, solitaire engagement rings, princess cut engagement rings, rose gold engagement rings, platinum engagement rings, white gold engagement rings, yellow gold engagement rings, emerald cut engagement rings, cushion cut engagement rings, pear shaped engagement rings, oval engagement rings, and marquise engagement rings. Discover our exquisite collection of diamond jewelry, including wedding rings and wedding bands.
Engagement Ring Collection by Sol Diamonds, Inc.
Discover Our Engagement Ring Showroom
As one of the best jewelry stores in Houston, we have something here that will match your particular fashion taste. We are a wholesale supplier of many exciting pieces, so whether you're looking for help in crafting your engagement ring style or looking for something that will turn heads whenever you walk into a room, we are here for you. Make an appointment at our showroom to meet with our friendly experts and benefit from our many years of experience when choosing your next piece of jewelry.
Rings For Your Engagement
---
Top Decision-Making Factors When Shopping For Engagement Rings At Sol Diamonds, Inc.
Budget : Consider your budget for the engagement ring and determine a realistic range to stay within.
Design: Explore different ring styles, such as solitaire, three-stone, vintage, or halo designs, to find the perfect one that meets your taste and style.
Metal: Choose from various metals such as gold, white gold, silver, or platinum for durability and beauty in an engagement ring setting.
Gemstones: Determine whether you want a diamond or other gemstones like sapphires or rubies set into the ring design for added sparkle and brilliance.
Certification: Make sure any diamonds included in the engagement ring are certified by reputable organizations like GIA so you know they're genuine stones of quality value and not synthetic substitutes with low resale value down the road if needed.
Jewelry Store Selection: Research local Houston jewelers who have positive customer reviews online and have a wide selection of rings at competitive prices with excellent warranties/return policies should there be any issues later on after purchasing.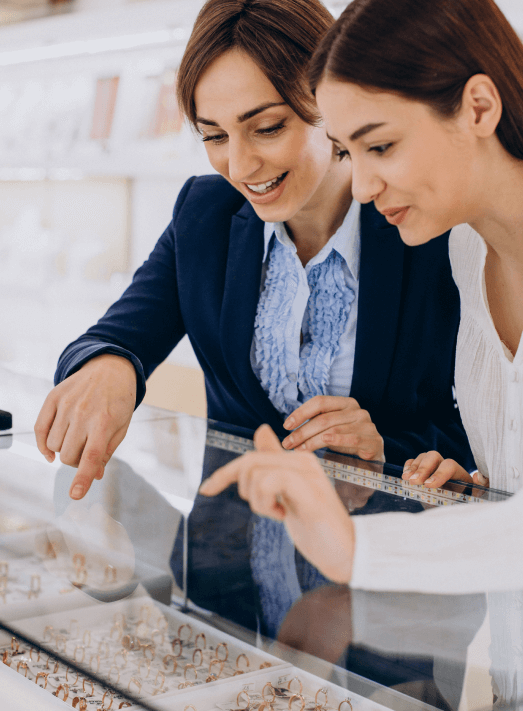 Pros and Cons of Engagement Ring Buying
Pros
Houston has a vast selection of engagement rings with options to suit every budget and style.
With its large population, there is likely to be an engagement ring store or designer nearby who can provide the perfect piece for your special day.
There are many reputable jewelers in Houston that will work with you to create a unique and custom design if desired.
Prices tend to be reasonable compared to other major cities due to the competitive market in Houston for jewelry items, including engagement rings specifically.
Cons
Many stores require appointments ahead of time in order to view their inventory, so it may take longer than expected if you're looking for something specific or custom-made from scratch without having seen it before.
It can become overwhelming when trying to decide on what type of ring is best suited for both partners as there are numerous options available at different price points and styles (i..e vintage vs modern).
The cost of diamonds fluctuates over time so it might not always be possible to get exactly what you want within your budget range depending on current market prices at the time of purchase.
Compare Engagement Ring Options
Pre-owned Engagement Rings: For those looking for a more affordable option, pre-owned engagement rings can be a great choice. They often feature vintage designs and styles that may not be available otherwise or the same quality of diamonds at lower prices.
Custom Engagement Rings: If you are looking to create something truly unique and one-of-a-kind, custom engagement rings can offer an array of options that will fit your needs perfectly. Designers in Houston who specialize in creating bespoke diamond jewelry will be able to help you craft an engagement ring that is as special as your love story.
Lab-Grown Diamonds: For eco-conscious couples, lab-grown diamonds offer an ethical alternative with none of the environmental costs associated with mining natural diamonds from the earth. In addition, they tend to have fewer impurities than mined stones and are typically more affordable too!
Expert Advice For New Engagement Ring Buyers
A wide range of styles and prices – from vintage to contemporary, you can find something that fits your budget along with your unique style.
Customized designs – many stores in Houston offer customized engagement rings tailored to the personality of the couple or individual.
Professional guidance – Our experienced staff are available to answer any questions about diamonds, settings, and more so you can make an informed decision on a ring purchase.
Quality assurance – most reputable jewelers guarantee their products for life so you can be sure that what you buy will last forever as an eternal symbol of love between two people.
Financing options – if needed, there are financing plans available which allow couples to make payments on their rings over time without breaking the bank all at once.